Coming or Going? Some Info Before Joining or Leaving Pegasus Farms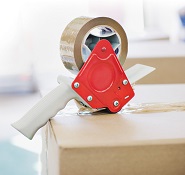 Whether you are joining or leaving us here at Pegasus Farms, we have a couple of things below to help make your transition easier. As always, please contact any of our Board members with any questions.
If you are new to the neighborhood, you can click here to download a fact sheet about Pegasus Farms.
If you are leaving Pegasus Farms, please be sure to contact the Board if you have any questions before moving.
---
Police Safety Information for St. Peters and Pegasus Farms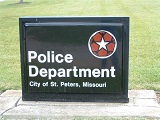 Keeping our Community safe starts with awareness. Here, you can request to be added to the St. Peters Police Department email distribution list regarding crime trends.
If you have any questions, please contact one of your Trustees, or contact the St. Peters Police Department at (636) 278-2244.
Click here for a direct link to the St. Peters PD webpage.
---
Get Involved!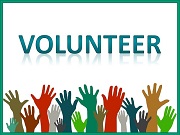 If you would like to get involved with some of the Pegasus Farms projects, please let us know! We're always happy to welcome new help into our projects - whether you're able to help once a year or once a month, let us know and we'll keep you informed of projects as they happen so you can decide how you'd like to give back to our Community. Click here to send an email and get added to our list of Volunteers.
---
Community Financial Considerations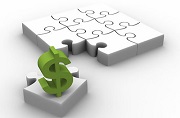 Part of your assessment is also kept in reserve for emergency purposes, payment of insurance for common ground, annual payments for projects, general upkeep repairs, and other uses as well. If you have any additional questions regarding use of assessment fees, please be sure to attend one of your annual meetings, or use the Contact Info page for further assistance.
---
Water Line & Sewer Lateral Repair Programs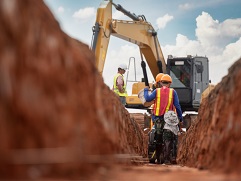 In the April-May 2021 issue of the St. Peters My Hometown magazine, information was reviewed on the City of St. Peters Water Line & Sewer Lateral Repair Program. In the article, you can read more detail about how "The City of St. Peters has a Sewer Lateral Repair Program in place to help St. Peters residents offset the cost of sewer lateral repairs". You can click here to visit the City of St. Peters website, or you can click here to download and fill out the application. Please note the application fee of $500.
---
Missouri Gas Tax Rebate - Save Your Gas Receipts!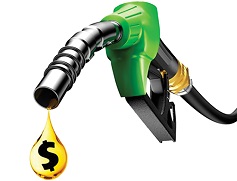 Below is an excerpt from the letter (pdf file) on the Missouri Dept of Revenue's website regarding the gas tax increase rebate program. Note: the rebate amount increases over the next five (5) years. "On Oct. 1, 2021, Missouri's current motor fuel tax rate of 17 cents per gallon will increase to 19.5 cents per gallon. Under Senate Bill 262, you may be eligible to receive a refund of the 2.5 cents tax increase you pay on Missouri motor fuel in vehicles weighing less than 26,000 pounds for highway use on or after Oct. 1, 2021, through June 30, 2022. Refund claims for this period may be submitted on or after July 1, 2022, through Sept. 30, 2022." Missouri DOR has also provided an FAQ page with more detail and information. Two examples below (15 gallons and 25 gallons with a target rebate of $100) have been provided to illustrate potential rebate dollars. Your mileage may vary. Any questions should be directed to the State of Missouri's Dept of Revenue using the link to their website above.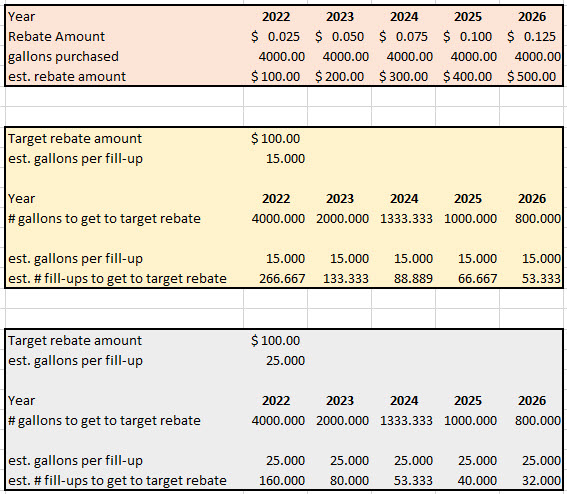 ---